Our Story, Our Mission, & Our Values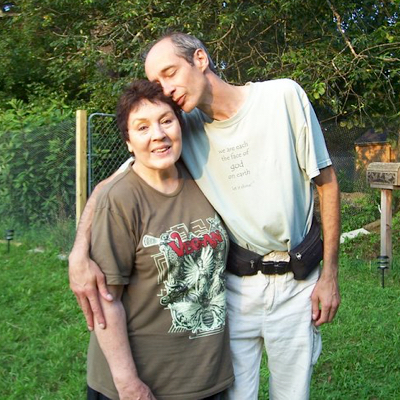 Claudine and Patrick Veistroffer
Our Story
Written by Claudine
I worked as a professional esthetician since 1981 and had my own salon from 1987 until present. I practiced holistic skincare and spa therapies.
In the summer of 2001 I met my future husband Patrick who was vacationing in the states. Soon after we married, Patrick moved to the states and started a small picture framer and art gallery business (he had twenty years of experience managing different art business in France). We also moved our business in the same space so we could spend more time together.
Our story and relation with animals started in 2004 when an acquaintance asked us to take care of a lonely little bird named Mikie (a cockatiel). Immediately both Mikie and Patrick fell in love and we adopted the bird. Now we live with 22 birds at home that have their own space, playground area and branches so they can enjoy flying.
Our story took a second turn when in spring 2007 I had a memory of a farm (part of a middle school) that I used to visit everyday when I was single. I asked my husband to take a drive there to see if they still had animals. The animals were still there, so we started to visit regularly and bring treats (bread or carrots) to the donkeys, goats and rabbits. This is what led us to volunteer to help with animals; we eventually got hired and spent 2 years there.
In late July 2009 we decided to go our own way with some of the animals we adopted from the school and some from local farms or private individuals. We now have 140 animals both at home and in our sanctuary in Greenfield, Massachusetts. I am semi retired and my husband had to give up the framing store due to both the time necessary to work at the school and the bad economy. So now he has more time available to do our construction at the sanctuary and take care of the animals.
---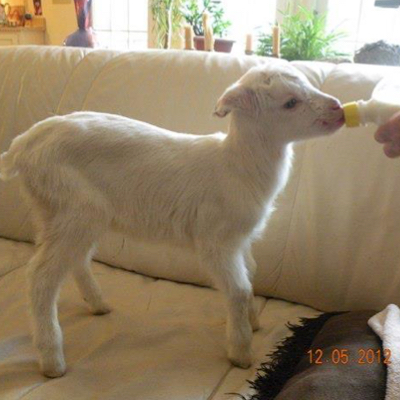 Pax, our goat we rescued at one week old.
Our Mission
Rescue Animals

We provide exceptional care for neglected, rejected, abandoned or abused animals by giving them love, great food, shelter and medical treatment if needed.

Make Them Happy

We create a natural interaction between animals and humans by giving them exceptional living conditions, the closest to what they need and like, allowing a mutual trust so they can heal from the past and live in peace, joy and harmony.

Raise Consciousness About Our Relation to Animals

We want to change the way society feels about animals in general and farm animals in particular, meaning that apart from their form and way of communicating they are no different than any of us. They are sentient beings with their own needs & feelings and have strong family ties. They deserve to be happy!

Provide Educational Program

We offer children and adults the opportunity to discover the beauty and healing power of the animal world by getting acquainted on a tour of the sanctuary. If affinity goes deeper in the understanding of these innocent animals, then you are welcome to observe, take care and stay with them for a longer time and participate in an immersion or internship program.

Carry a Message of Peace to Animals

We want to raise awareness and disseminate information about the cruelty inflicted on many animals: the way farm animals, race dogs, and various birds are mistreated and are despised from their birth to their last day. We want to give voice to these misunderstood animals and show that when most of these animals are loved they behave just like the animals we call pets. Why should we treat them differently? We want to educate people that conscious eating has to develop and increase in order to protect these innocent creatures, preserve our environment (climate change), and make better decisions for our health. Please think about becoming vegetarian and vegan.
---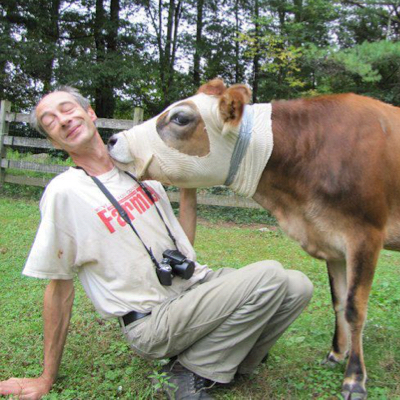 Patrick & Sietchie, picture taken
shortly after her surgery was performed.
Our Vision & Values
Respect and devotion to animals, humans and mother nature
Inspire action by living by example to show the total dedication and commitment to daily care, compassion and integrity towards animals
Be a vehicle for changes and transform outdated beliefs about animals (Closing the gap of the great divide)
Help everyone and especially those with special needs discover and develop a genuine and profound relationship with an animal as to establish a deep sense of connection
Allowing all of this to happen will allow that person to better understand him or herself better and go back to their true nature, which is love.