Meet Our Cows
Sietchie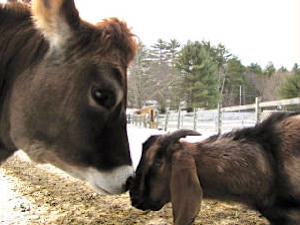 Will you dance with me?
Sietchie is so alive and so full of joy. She will often show her joy by running, hopping, and skipping around the field, like a dance in sheer exuberance. She is also very sweet and to show you her love, she will lick your hands or face with her raspy tongue and chew on your clothes like a puppy dog.
Want to know more about Sietchie? Read her story.
---
Marley
Handsome Marley: The zebu with majestic horns
He has his heart set on Sietchie, our jersey cow. He is very strong and athletic and can easily hop over a fence and run like a horse. He is very intelligent and cunning and he sees Clifford, the young jersey male, as competition for Sietchie. He won't hesitate to give him a hard time about that but he is not actually mean!
---
Clifford
Clifford: The gentle giant
He is a five year old jersey steer, with a chocolate brown face and large sweet eyes that you can get lost in. He is very loving and peaceful and he also loves Sietchie. In spite of Marley's antics, he is very sweet with Marley and likes to groom him with his tongue.