Meet Our Goats
Autumn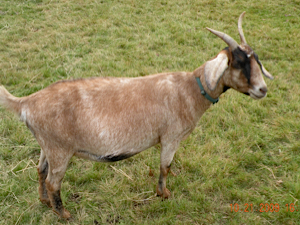 She is a very shy goat ,kind of a loner.
She had a set of babies in the past but could not nurse them due to a defect.
She is one of our older goats ,well integrated with the herd and very peaceful
---
Biquette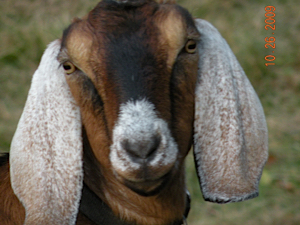 Pronounced Bee-Kate.
I had a pretty rough life before coming to live at Cloa's Ark Animal Sanctuary. I did not have the proper care. I almost died twice: once in child birth, the other being infected with a Meningeal Worm which left me partially lame in my hind legs. Now I am peaceful and content in my new home. When you look into my eyes you see love and gratitude.
---
Borat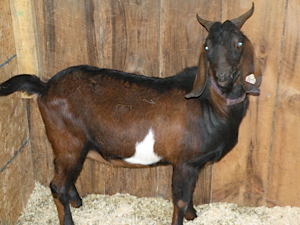 We met Bohrat in a small farm belonging to a Private middle school for special needs boys.
He was always small and fragile,often left on his own,accident prone and not too healthy,he had several brush with death.
We adopted him when the school downsized the farm as his future was incertain.
He has been always very sweet and shy sometimes with a sad look ,so we told him we will take him with us when leaving the school..
So we did and he has been with us at Cloa's ark for now 6 years.
We keep a close look and give him special care,he has some up and down but lives his life with the herd as happily as possible.
---
Brownie
Crystal was the first born, along with her twin brother ,4 months after we started the sanctuary.
We had not expected to see 2 little kid goats in the barn when we arrived in the morning on Thanksgiving day ,along with 3 women (one the owner of the land we were renting and the 2 others were neighbours).
They held the babies in blankets and were waiting for us to arrive as we did not live on the premises.
Evidently we had a pregnant goat on our hands and were not aware of it when we took her in.
It was happy surprise after all, new life is always miraculous and there is nothing like newborn kid goats to steal your heart away and to bring out all maternal instincts from a woman.
Crystal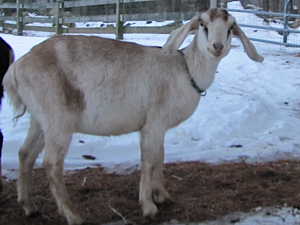 Crystal was cream color ,she looked small and fragile .
Her brother brownie was bigger and more lively.
The mother named Autumn was licking them vigourously but alas when we placed the babies under her tits she was so jumpy and nervous the babies could not never nurse from her.
---
Jane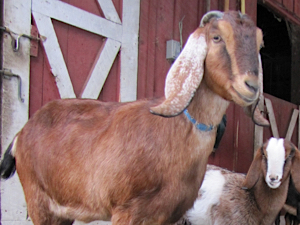 We have rescued a sweet Nubian goat named Jane 6 years ago with 10 others goats who were in great need of some tender loving care.
We opened an animal sanctuary on July 2009 to help neglected, abandoned or abused animals.
Jane was a small and fragile goat with a sweet and shy disposition; she was a yearling at the time.
She has led a peaceful, happy life at our sanctuary but unfortunately about a year ago we noticed she was bumping into things and was losing her sight.
After a while we went to the Vet, who is an eye specialist where she was diagnosed with cataract.
In the meantime she has become totally blind.
Even though she adjusted and was able to come to the sound of our voice and find her way around she is really limited, fortunately she did not lose appetite and her spirit is still very good.
---
Latte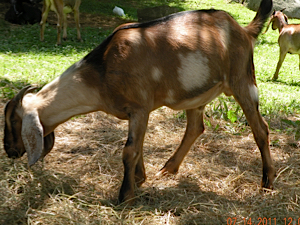 Moka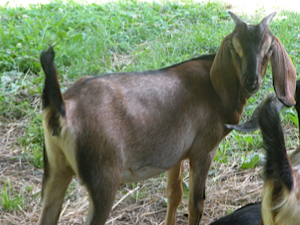 A beautiful set of twins who were born shortly after we started the sanctuary.
Their mother Maya was an exceptional mother so they were taken care of a happy right from the start, which was a plus for them as they did not have to be rescued from bad conditions.
We lost Maya 2 years ago and miss her sorely.
However the twins are doing well, growing in beauty and health.
---
Milla & Rosa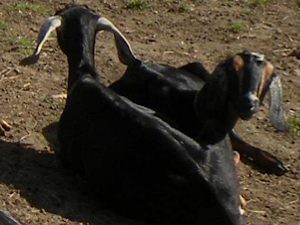 Shortly after the birth of the first set of twins came another one.
2 beautiful black females born out of Maya.
We noticed she was getting bigger and knew she was pregnant as well.
We saw her giving signs she was getting ready to give birth.
It was getting late at night and it was also very cold outside, so I stayed with her in the stall.
Maya was an old hand at being a mother , since she already had a set of twins the previous year at the school farm where we had volunteering.
(that was Vickie and Valentin.)
The birth went smoothly ,first Rosa, then shortly after Mila.
She licked them for a while but it was late and cold, so quickly Mila started shivering as she was not able to get to drink her mom 's milk.
So I called our vet ,she got there fast,and decided to tube feed her.
She got she colostrum , but Mila was fragile and somehow took too much or too fast and she had trouble breathing and somehow was loosing ground.
We felt really scared for her and I called Patrick who was at home feeding our birds.
He arrived quickly ,held Mila and gently placed her inside his jacket on his heart ,saying that were no problem and she'll be fine.
And low and behold after a few minutes she totally revived ,Patrick put her down and she went nursing.
So I said " Milagro" which means miracle in Spanish(our vet was Ispanic),that's why we called her Mila.
---
Pax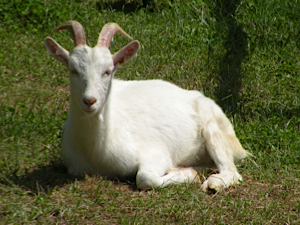 I was left to die on a dirty cold floor at the stockyard. I was only a few days old and had been taken away from my mother to be sold at auction with a lot of other little goats like me, but I was too weak and cold to make it. The one who was to become my human parent, Patrick, saw me and questioned the buyer who told him he was leaving me behind to die or he could take me home and try to save. There was little chance I would survive. The man took me to my human mother, Claudine. She warmed me inside her coat and we went home. Now, I am 2 years old and am strong, healthy and happy with 13 other goats.
Read Pax's Story
---
Tina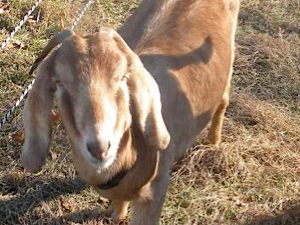 Teenie,tiny Tina was a little orphan goat.
she was a little bit of a little cream color baby no bigger than a cat.
We raised her in our home for a few month on bottle milk.
She is very attached to us and especially to Patrick.
She grew up in our kitchen amidst 2 rabbits and a little hen.
She trained herself to pee in the rabbit litter tray.
She was always smart as a wip and kind of bold.
With her long fur and cute little face, she looks like a teddy bear
She loves riding in the car (or van) with Patrick.
Although she now is part of the herd , she stay a bit apart and follows Patrick everywhere.
We love Tina and all the goats.
They really are happy and peaceful.
---
Tina & Bambi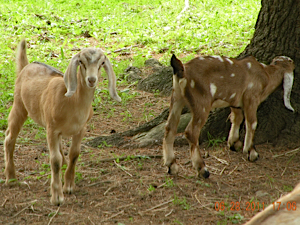 ---
Ushuaia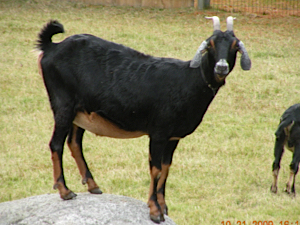 She is a beautiful mixed breed between Nubien and Sanen? With a handsome set of horns.
She has a strong personality but shy with people.
Bohrat took a liking to her and romanced her,following her around.she was playing hard to get but he was persistent and she finally gave in.
They now are a pair and can be seen often together.
And they live happily ever after as they say.
---
Valentin & Vickie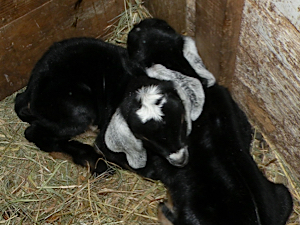 ---
Vickie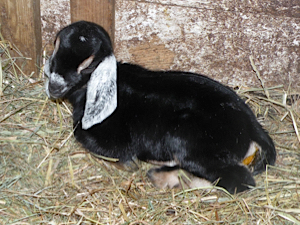 I am one of a set of twins .
We were born in the winter in a cold ,drafty barn ,so we did not have the confort of an easy birth.
Fortunately 2 persons who were helping at the farm were there to assist my mother.
I was so small and cold I almost did not make it.
My human mother milked my mother , handfed me and tried to warm me in a blanket .
I came to life after a while so that is why they named me Victory (Vickie for short).
They adopted my mother and my brother but unfortunately they passed but that's another story…